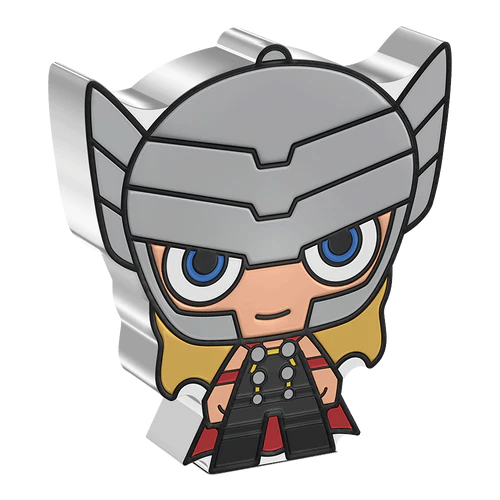 THOR CHIBI COIN COLLECTION MARVEL COMICS SERIES 2023 1 oz Pure Silver Proof Coin
In stock
Product Description
THOR CHIBI COIN COLLECTION MARVEL COMICS SERIES 2023 1 oz Pure Silver Proof Coin – Niue – NZ Mint
Prove yourself worthy to Thor with this electrifying 1oz pure silver Chibi® Coin! It has been coloured and shaped to resemble the God of Thunder with his winged helmet and red cape.  Some relief has been added to give a striking 3D effect. PLUS, there is a 1 in 10 chance for you to get the gold-plated gilded version — so cool!
Engraved on the obverse is the Public Seal of Niue, confirming that the coin is legal tender. The worldwide availability is limited to just 2,000 coins, with only 200 of them gilded!
Officially licensed, each coin is packaged inside a custom-designed box surrounded by epic character imagery. The large window allows you to display your collectible easily. Turn to the back, and you will find a Certificate of Authenticity, along with the coin's unique serial number in the mintage.
Fight Evil Throughout the Nine Realms today!
Specifications
Mintage: 2000
Material: 999 Fine Silver
Finish:  Proof/Colored
Weight: 1 Troy oz
Diameter:  31.5mm x 36mm
COA: Yes
Country: Niue
Face Value: $2.00