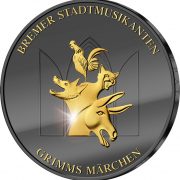 TOWN MUSICIANS OF BREMEN – FAMOUS GOLDEN ENIGMA – 2017 Silver Coin – Ruthenium and 24K Gold Plating – Germany
Manufacturer: German Mint
In stock
Product Description
TOWN MUSICIANS OF BREMEN – FAMOUS GOLDEN ENIGMA – 2017 Silver Coin – Ruthenium and 24K Gold Plating – Germany
Full Ruthenium and Selective Gold Plating
The "Town Musicians of Bremen" is a fairy tale by the Brothers Grimm first published in 1819. In the story a donkey, a dog, a cat, and a rooster leave their homes and set out together. They decide to go to Bremen to become musicians there. This coin is the sixth issue of the commemorative series "Children's and Household Tales" by the Brothers Grimm.
This successful series is an unique combination of black & gold and features famous and favored investment motives. Each coin is completely plated with black Ruthenium and partly gilded with 24kt Gold. The precious metal Ruthenium is a member of the Platinum Group and worldwide very rare.
Enhancement was done by a private mint in Germany.
Specifications
Special Features: Black Ruthenium and 24k Gold
Mintage: 2000
Material: Sterling Silver (.925)
Finish: Brilliant Uncirculated with enhancement
Weight: 18 Grams
Diameter: 32.5 mm
Scope of Delivery: Luxury Box
Certificate: Yes