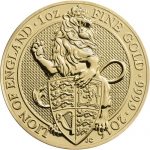 THE LION OF ENGLAND – THE QUEEN'S BEASTS – 2016 1 oz Pure Gold Coin
In stock
Product Description
THE LION OF ENGLAND – THE QUEEN'S BEASTS – 2016 1 oz Pure Gold Coin
The first official UK 1 Ounce Gold Bullion Coin from The Royal Mint series The Queen's Beasts
1 ounce of fine gold, finished to bullion standard
These coins come in plastic flips.
DESIGN
The obverse features the image of Queen Elizabeth II by Royal Mint Coin Designer Jody Clark.  The reverse features the rampant lion fiercely guarding the heraldic shield that is so integral to the British monarchy's story.  
SPECIFICATIONS
Material: Pure Gold (99.99%) Country: United Kingdom Weight: 1 oz Mint: The Royal Mint (United Kingdom) Condition: Brilliant Uncirculated Face Value: 100
 Pounds