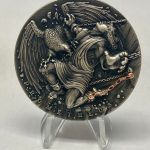 PROMETHEUS – ANCIENT MYTHS – 2019 2 oz Pure Silver Coin with Red Gold Plated Chain – Mint of Poland – Niue
Manufacturer: Niue Island
In stock
Product Description
PROMETHEUS – ANCIENT MYTHS – 2019 2 oz Pure Silver Coin with Red Gold Plated Chain – Mint of Poland – Niue
The third coin of a exclusive series called "Ancient Myths".
The third issue features Prometheus.
The 2 oz High Relief Pure silver coin is finished in an antique finish and rimless with a small red gold plated chain.
Each coin is packed in a beautiful wood case with a colorful graphic dust jacket and has a numbered certificate of authenticity from the Mint of Poland.
SPECIAL FEATURES
Low Mintage of 500 coins worldwide !
High Relief
Fantastic Artwork on both obverse and reverse sides of the coin
Rimless with Serial Number engraved
Wood box and Sleeve and Certificate of Authenticity
SPECIFICATIONS
Features: Great Artwork and red gold plated metal chain Inlay
Mintage: 500
Material: Pure Silver (99.99%)
Edge: Smooth with Serial Number
Condition: Antique Finish
Weight: 2 oz
Diameter: 50 mm
Face Value: $5.00 Dollars