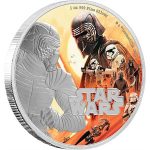 KYLO REN – THE RISE OF SKYWALKER – STAR WARS – 2019 $2 1 oz Pure Silver Proof Colored Coin – NIUE – NZ MINT
Manufacturer: New Zealand Mint - Niue
Availability:
Out of Stock
USD 82.98
Out of stock
Notify me when item is back in stock.
Product Description
KYLO REN – THE RISE OF SKYWALKER – STAR WARS – 2019 $2 1 oz Pure Silver Proof Colored Coin – NIUE – NZ MINT
This pure silver coin features the dangerous Kylo RenTM and the dark side of Star Wars: The Rise of Skywalker. Images of Kylo as he appears in the film are engraved and coloured along with other First OrderTM characters from this final movie in the Star WarsTM sequel trilogy.
The coin arrives in a Star Wars branded box. Inside it is packaged in a perspex coin case, ideal for display, making it a great memento for any Star Wars fan or collector.
Your Certificate of Authenticity sits inside the box which confirms the coin as one of a limited worldwide mintage of only 5,000. As the last movie in the sequel trilogy, we believe demand will be high – so don't wait to order, otherwise you may be feeling very dark too!
Coin Story
The surviving ResistanceTM faces the First OrderTM once more in the final chapter of the SkywalkerTM saga.
This officially licensed Star Wars: The Rise of Skywalker coin collection features the heroic ReyTM, the dark warrior Kylo RenTM and the delightful droids BB-8TM and D-OTM.
Specifications
Mintage: 5,000
Material: Fine Silver (99.9%)
Finish: Proof/Colored
Weight: 1 oz
Dimensions: 40mm
Country: Niue
Face Value: $2.00