-19%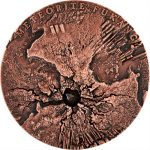 FUKANG – WORLD OF METEORITES – 2018 $5 2 oz Pure Silver Copper Plated Coin with Fukang Meteorite Insert – Mint of Poland – Niue
Manufacturer: Niue Island
In stock
Product Description
FUKANG – WORLD OF METEORITES – 2018 $5 2 oz Pure Silver Copper Plated Coin with Fukang Meteorite Insert – Mint of Poland – Niue
This coin is the first coin of a brand new series dedicated to meteorites that have fallen. The coin is a 50 mm and is 2 oz of pure silver that has been plated with copper to give it a distinctive look.
The coin also has a relief of 6 mm and has a genuine Fukang Meteorite insert.
Comes with coin in capsule, certificate, wooden box, and dust sleeve.
SPECIFICATIONS
Mintage: 666
Material: Pure Silver (99.99%)
Features: Copper Plated, High Relief, Genuine Fukang Meteorite
Weight: 62.2 grams
Diameter: 50 mm
Face Value: $5.00