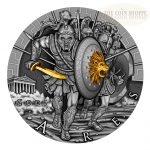 ARES – GREEK GOD OF WAR – 2017 2 oz Pure Ultra High Relief Silver Coin – Antique Finish with Partial 24K Gold Gilding – Niue
Manufacturer: Perth Mint
Availability:
Out of Stock
USD 671.26
Out of stock
Notify me when item is back in stock.
Product Description
ARES – GREEK GOD OF WAR – 2017 2 oz Pure Ultra High Relief Silver Coin – Antique Finish with Partial 24K Gold Gilding – Niue
FREE SHIPPING WORLDWIDE!
This is the first coin of the new series called "Greek God of War". The first coin of the series is Ares.
Ares is the god of war, one of the Twelve Olympian gods and the son of ZEUS and HERA. In literature Ares represents the violent and physical untamed aspect of war, which is in contrast to ATHENA who represents military strategy and generalship as the goddess of intelligence.
Although Ares embodied the physical aggression necessary for success in war, the Greeks were ambivalent toward him because he was a dangerous, overwhelming force that was insatiable in battle.
SPECIAL FEATURES
First Coin of the Series
One Coin Per Year Release Schedule
Premium Antique Finish
Partially Gilded
Extremely Low Mintage
Ultra High Relief
Comes in a box and color outside sleeve
SPECIFICATIONS
Features:Ultra High Relief
Mintage: 500
Material: Pure Silver (99.99%)
Finish: Antique Finish
Issuer: Niue Island
Weight: 2 oz
Diameter: 50 mm
Face Value: $2 Dollars