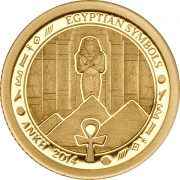 ANKH – EGYPTIAN SYMBOLS – 2014 0.5 Gram Pure Gold Proof Coin – Palau
Manufacturer: Palau
In stock
Product Description
ANKH – EGYPTIAN SYMBOLS – 2014 0.5 Gram Pure Gold Proof Coin – Palau
The first coin of the series "Egyptian Symbols" This is going to be a low mintage series that will illustrate Egyptian Symbols. This coin is a proof coin in pure gold.
Ankh is an object or design resembling a cross but having a loop instead of the top arm, used in ancient Egypt as a symbol of life.
Coins comes with a certificate of authenticity.
PLEASE NOTE THAT THIS LISTING IS ONLY FOR THE GOLD COIN IT DOES NOT COME IN A BOX, BUT THE SILVER COIN DOES HAVE A BOX, AND A SPACE FOR THE GOLD COIN.
SPECIFICATIONS OF COIN
Metal: 9999 Fine Gold
Finish:Proof
Diameter: 11 mm
Features: High Relief
Denomination: $1.00
Year of Issue: 2014
Mintage: 5000
Weight: 0.5 Gram