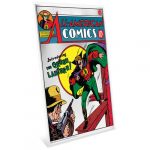 ALL AMERICAN COMICS #16 – GREEN LANTERN – 2020 35 Gram Pure Silver Foil – NZ Mint
Manufacturer: New Zealand Mint - Niue Island
Product Description
ALL AMERICAN COMICS #16 – GREEN LANTERN – 2020 35 Gram Pure Silver Foil – NZ Mint
Licensed by DC Comics, this unique silver foil incorporates both colour and engraving to create a unique replica version of the All American Comics #16 cover.
This edition from July 1940 featured the first appearance of GREEN LANTERN™.
This large format 35g pure silver collectible is packaged in a sturdy acrylic cover for protection and display. It arrives inside a themed carrier featuring a more recent image of GREEN LANTERN on the reverse.
A truly precious collectible for any GREEN LANTERN fan. Now you have the power to make it yours!
Specifications
Material: Fine Silver (99.9%)
Finish: BU
Weight: 35 Grams
Size: 175mm x 262 mm