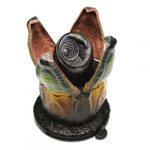 ALIEN 40TH ANNIVERSARY – 2019 2 OZ Pure Silver Antiqued Colored Coin – Tuvalu- Perth Mint
Availability:
Out of Stock
USD 184.44
Out of stock
Notify me when item is back in stock.
Product Description
ALIEN 40TH ANNIVERSARY – 2019 2 OZ Pure Silver Antiqued Colored Coin – Tuvalu- Perth Mint
Alien is a classic science fiction horror movie that artfully explored the worst imaginable scenario in space –being stalked and slain by an aggressive and terrifying extraterrestrial.The groundbreaking 1979 release was a box office hit, earning $80 million in revenues in the US and$105 million worldwide. It also initiated a compelling series of films featuring the iconic titular creature.
Directed by Ridley Scott and starring Sigourney Weaver, Alien won a raft of honours, including an Academy Award (Oscar) for Visual Effects. Celebrating its significant impact on the genre and enduring appeal over four decades, this coin portrays the terrifying creature in its skeletal larvae form and disturbingly elongated adult visage.
Issued as Tuvalu legal tender, the coin has a maximum mintage of just 1,500 and is only the second coloured antiqued coin ever produced by The Perth Mint.
DESIGN
The reverse design depicts the coloured head of an adult alien with its gaping maw exposing razor sharp teeth. Overlayed is a representation of the creature in its "face hugger" larval form, the second stage of its development.
The coin's obverse portrays the Ian Rank-Broadly effigy of Her Majesty Queen Elizabeth II, the weight and fineness,monetary denomination and the 2019 year-date.
Combining two celebrated numismatic finishes, the coin is rendered in vivid colour with a black background, grey "face hugger" and sickly green alien, while also boasting an antiqued finish. This handcrafted finish adds individual abrasions to the coin's surface for enhanced fine detail and an artefact-like appearance.
PRESENTATION
The coin is housed in a coloured egg-shaped case inspired by the oval pods in which alien life first appeared in the presence of the Nostromo landing party. The case opens to reveal four pink petal-shaped membranes as per the alien egg's hatching process. The coin is displayed in an acrylic case with a cracked appearance which rises as the egg opens. Packaged in a themed shipper, the coin is accompanied by a numbered Certificate of Authenticity
SPECIFICATIONS
Mintage: 1,500
Material: Pure Silver (99.99%)
Finish: Antiqued/Color
Weight: 62.213 g
Dimensions: 40.6 mm
Thickness: 6.42 mm