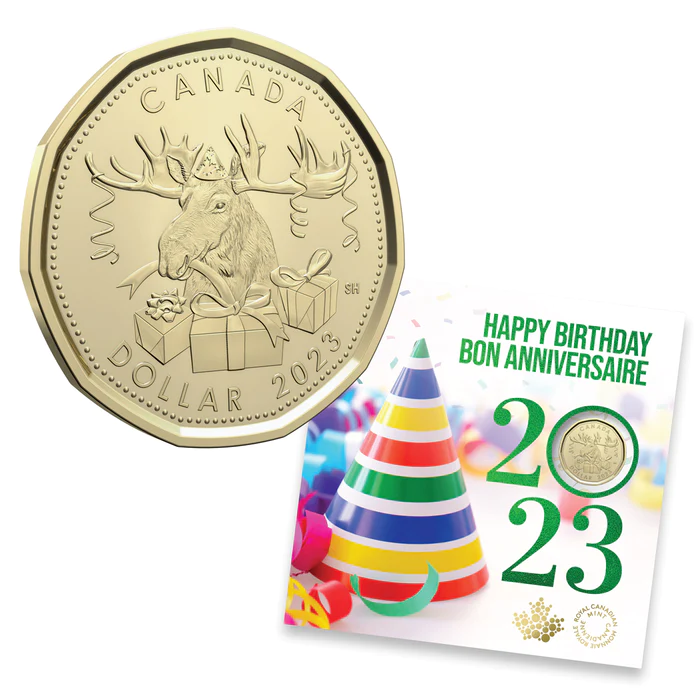 2023 BIRTHDAY COIN GIFT SET ROYAL CANADIAN MINT
In stock
Product Description
2023 BIRTHDAY COIN GIFT SET ROYAL CANADIAN MINT
Make someone's birthday EXTRA special with this fun Gift Card Set.
It's unique, it's affordable, and most of all, it's fun! A combination gift and greeting card, the 2023 Birthday Gift Card Set is the perfect birthday present for someone special. It features five 2023-dated Canadian non-circulation coins, including a specially struck $1 birthday coin that invites the recipient to let loose their inner party moose!
This year, send them a uniquely Canadian birthday greeting. Order your Birthday Gift Card Set today!
As we focus our attention on commemorating the reign of Queen Elizabeth II (1952-2022), the Mint will not be issuing any 2023-dated Canadian circulation coins featuring both the traditional reverse designs and an obverse featuring Queen Elizabeth II. Instead, we are offering a collector's edition of these annual issues that have been struck in limited numbers. These are non-circulation coins, meaning they are legal tender but not intended for general circulation. The obverse also bears a special marking that includes four pearls symbolizing the four effigies that have graced Canadian coins and the double date of her reign.
SPECIFICATIONS
No: 205695
Mintage: 100,000
Material:
Finish:
Weight:   g
Diameter:  mm
Edge:
Certificate: Serialized