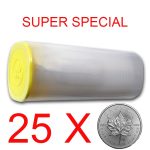 🔥 SPECIAL 🔥 SILVER MAPLE LEAF – 2014 25 X 1 oz Pure Silver Coin – Royal Canadian Mint
In stock
Product Description
SILVER MAPLE LEAF – 2014 25 X 1 oz Pure Silver Coin – Royal Canadian Mint
The Silver Maple Leaf is considered to be one of the most beautiful bullion coins in the world. Silver Maple Leafs now feature a radial background design and unique privy mark to deter counterfeiting and guarantee the coin's impressive .9999 purity.
Coin Highlights:
Contains 25 X 1 oz of .9999 fine Silver.
Packaged in mint tubes.
Obverse: Shows the right profile of Queen Elizabeth II, along with the year and face value.
Reverse: Displays a large, single maple leaf with the weight and purity. Contains a micro-engraved maple leaf privy mark that shows a "14" when viewed under magnification.
Sovereign coin backed by the Canadian government.
SPECIFICATIONS
Material: Pure Silver (99.99%)
Finish: BU
Weight: 1 oz
Diameter: 38mm
Face Value: $5.00 Dollar